Creative Arts Eliot 2023: Your choice of workshops
Saturday, August 12, 2023
from 04:00 PM
to Wednesday, August 16, 2023
to 04:00 PM
Our workshops for 2023 are listed below. Check out the nine amazing options!! They are irresistible; please join us for an amazing creative experience! If you haven't registered for camp already, go to our home page and click on the Big Blue Button.
If you want to apply to be a presenter for a future camp, please scroll all the way to the bottom of this page to find links to information and applications.
Kaylyn Olynyk - Printmaking
Program Description: Get creative with all things printmaking! In this first workshop, students will create a number of prints to take home, in a variety of mediums and techniques. We will be experimenting with different materials, such as sun printing with cyanotype, carving stamps and lino printing, and printing impressions of leaves and other foraged materials in nature. Open to all experience levels and abilities. There will be options for beginners and more adventurous artists alike. Bring a t-shirt or blank tote bag to experiment with printing on fabric.
Biography: Kaylyn is self-taught artist, learning printmaking from friends or through experimentation. She's always been into art as self-expression and as a way to connect with others, and recently has been into zine making, watercolour painting, and lino print. Kaylyn lives on Lekwungen territory (aka Victoria, BC, Canada) and is a long time Elioteer. Please visit kolynyk.tumblr.com to view some of her work and the art forms that students will be trying out.
Bryan Willis - Writing Your Story
This workshop is now full. Please check out our other options.
Program Description: Writing Your Story
Open to everyone who enjoys writing. Our workshop will include the basics of story, character development, and plot with an emphasis on creating new works via in-class exercises. Writers will be encouraged to write poems, short stories, and memoirs. Have a work-in-progress you'd like to revise? We can help! No experience necessary, but be prepared to have fun. Enrollment limited to 15 students.
Biography: Bryan Willis serves as playwright-in-residence for the Northwest Playwrights Alliance at Seattle Repertory Theatre. His work has appeared throughout the U.K., China, Israel, Japan, Canada and U.S., including New York Theater Workshop, Milwaukee Rep, Unseam'd Shakespeare Co., Book-It Repertory Theatre, Riverside Studios in London and Seattle's ACT where John Langs directed the mainstage premiere of Seven Ways to Get There. His collaboration with Kenneth Lonergan and Frank Pugliese, Woofer the Psychic Dog, has enjoyed success in many theaters on both coasts and in Japan. Bryan's work has also been featured on NPR, BBC Radio 4 (commission for Sophie) and German Radio NDR (collaboration with novelist Peter Mountford). Bryan worked in new play development in New York at Playwrights Horizons and later worked in the literary department at Lincoln Center, serving as NYU's Playwright-in-Residence while completing his MFA in Playwriting & Screen Writing at Tisch School of the Arts. He is a proud member of Artist Trust and received a gold medallion from KC/ACTF, where he served on the National Selection Team in 2011.
Lynn Ungar - Poetry as a Spiritual Practice
This workshop is now full. Please check out our other options.
Program Description: Poetry as a Spiritual Practice

Beloved poets throughout the ages have turned to the natural world for inspiration, finding, in Shakespeare's words, "tongues in trees, books in the running brooks, sermons in stones" and the wisdom that we need to find our place in this world. Participants will be invited to investigate both poetry and nature as inspiration for creating their own wisdom poetry.
Biography: Rev. Dr. Lynn Ungar is a poet, Unitarian Universalist minister and dog trainer who lives in Vancouver, WA with her two Australian Shepherds. Her books of poetry include Bread and Other Miracles, Breathe, and These Days: Poems of the Pandemic Age.
Kat Rose - The Magic Egg - Modern Pysanky
Program Description: The Magic Egg - Modern Pysanky
All over Eastern Europe, since Pagan days, people have inscribed eggs with sacred symbols to bring blessings. We will be making Pysanky with hot wax delivered by an electric tool, then dyed vibrant colors. The design is revealed when the wax is removed.
Whimsical, modern or traditional, each egg carries good wishes for it's recipient. This is a meditative craft with deep spiritual roots. Pysanky is so much more than making pretty eggs. Kat will share stories of how the eggs are used as talismans in everyday life.
Even if you think you can't draw straight lines, you can make marvelous eggs with squiggles and dots. Young people who enjoy quiet focused work are welcome. You can expect to make 1 dozen amazingly colorful eggs during the workshop.
More information on Pysanky and the class can be found at www.flamingchalice.com/themagicegg
Biography: Kat learned to write pysanky at the age of 4 from her Baba (Grandmother) who immigrated to the US from Austria Hungary. She has taught others to "do eggs" in Pittsburgh, LA, Santa Fe, Seattle and Friday Harbor. Kat attended Northlake and East Shore UU. Retired from a high tech career, she now lives on San Juan Island. When not writing pysanky, she spends her time in her clay studio making chalices for UU's or working her organic garden to grow for the food bank.
Allison King - Move Your Body, Move Your Spirit
Program Description: Move Your Body, Move Your Spirit
The workshop will be in 3 sections -the first part consists of a choreographed warm-up routine using techniques from ballet, modern, jazz, and yoga that will work every muscle from head to toe, and is designed to strengthen, stretch, and align the body. The second section will be learning movement basics from ballet, modern, and jazz, and in the third section, we will create a movement piece together for the extravaganza. There will also be time each day for some free-form boogie! Movers of all levels and abilities are welcome.
Biography: Allison is well-known to the Eliot community as a musician, but she has also studied dance and performed in, choreographed, or directed over 60 musical productions, from musical theatre to opera. She has taught movement classes and workshops at conferences, community centers, and at colleges. She lives in Portland, Oregon, and is the Music Director for the UU Church of Vancouver, WA.
Linda Horton - Mosaics
Program Description: Create Your Own Glass Art Mosaics
Mosaic is an ancient art form, made accessible to beginners or those with some experience in this workshop. Participants will learn about choosing materials (iridescent or textured glass, small ceramic tiles, beads to embellish, etc.), glass cutting, composition and tips for constructing simple pieces. These can include a small (5") picture trays and pendants, or a more challenging 8" plaque for those with some experience. Using glass triangles or slivers primarily, rather than squares, allows a more dynamic, flowing and quicker creative expression. New skills, plus original, durable artwork to take home!
Biography: I have been involved in the arts since childhood, when my mother took me after church (San Diego 1st UU) to sketch in the park or at the harbor. In high school, I Illustrated the literary magazine, in my 20s I worked for an art gallery and sold my etchings, and in my 30s assisted an art therapist in senior homes. While I have been involved in many art forms, I kept coming back to visual arts. Abut 30 years ago I took up stained glass, which evolved into a passion for glass mosaics. Early in my retirement, I began designing pendants, beginning with flaming chalices and branching out. Between my Etsy site and craft fairs, etc., I have sold more than 300 pendants, as well as contributing both pendants and plaques to church and charity fundraisers and making larger pieces for gifts and the occasional commission. Now I am finding decorative plaques a more interesting challenge. During my 25+ years as a parish minister, I regularly offered adult ed classes in "Art and Spirit." Leading a mosaic workshop in 2022 at Creative Arts Eliot was even more enjoyable than expected, and the creations of the participants quite delightful.
Elizabeth Higgins - Nature Journaling for Everyone
This workshop is now full. Please check out our other options.
Program Description: Nature, creativity and mindfulness come together in this workshop to give participants the inspiration, skills and space to connect to themselves, to nature and to others through the practice of nature journaling. Participants will learn basic watercolor skills, including color mixing and application, and be given prompts and guidance to create their own "conversation with Nature" in the way that feels authentic to themselves. We will spend time outside, as well as in the classroom, observing, appreciating, reflecting on and celebrating the nature around us through writing, drawing and basic watercoloring.
Biography: Elizabeth Higgins is an Oregon artist and arts instructor who develops and facilitates classes and workshops that connect people to nature, mindfulness and creativity. She teaches Nature Journaling and watercolor classes for several organizations in her community, including Hoyt Arboretum, Walters Cultural Arts Center, and Sitka Center for Art & Ecology. She is known for her calm, supportive teaching style, and her approach is centered on the belief that both nature and creative expression are necessary components of human well-being. She is a juried member of Watercolor Society of Oregon and holds a certificate in Eco-Therapy practices. You may learn more about Elizabeth on her website at www.elizabethmhiggins.com
Francisco Ruiz - You Can Sing Harmony
Program Description: You Can Sing Harmony - Circle Songs
Group singing benefits posture, breathing and muscle tension release - regardless of the skill-level of participants. Join us in a safe exploration of our voices as we navigate fundamentals of breath control, listening skills and unveiling the singing potential within each one of us. Francisco Ruiz will facilitate Circle Singing, emphasizing community building and utilizing singing as a spiritual practice.
Biography: Hailing from Ecuador, Francisco Ruiz is a vocalist, multi-instrumentalist, arranger and music director for a variety of choirs and music groups in LA. He has worked with various artists including U2, Ivan Lins, Luis Enrique and KC Porter. He has worked as vocalist and choir director at various important venues including the Walt Disney Concert Hall, Jimmy Kimmel Live!, The Wiltern, among others. Most recently, Francisco worked with producer Hector Crisantes as vocalist and arranger in 2022 Latin Grammy Nominated Best Traditional Pop Vocal Album "LA VIDA" by KURT [Universal Music Mexico], as well as background vocalist in Best Folk Album "LA TIERRA LLORA" by Paulina Aguirre.
Graduated from the prestigious Berklee College of Music, Francisco has been a vocal educator for over 10 years, touring with vocal projects and sharing his knowledge in vocal improvisation acquired by studying and performing with ten-time Grammy Award winner Bobby Mcferrin and members of Voicestra: Joey Blake and Rhiannon. Francisco performed in Chile at the 2016 Viña del Mar International Song Festival alongside Paulina Aguirre representing the Latino Immigrants in the United States, winning Best Performance. The Quinta Vergara venue was sold out the 3 nights they performed, attracting over 60,000 people and millions of TV and streaming viewers around the world.
More information about Francisco and his body of work can be found at:
franciscovocals.com


Wayne Jiang - Acrylic Painting
This workshop is now full. Please check out our other options.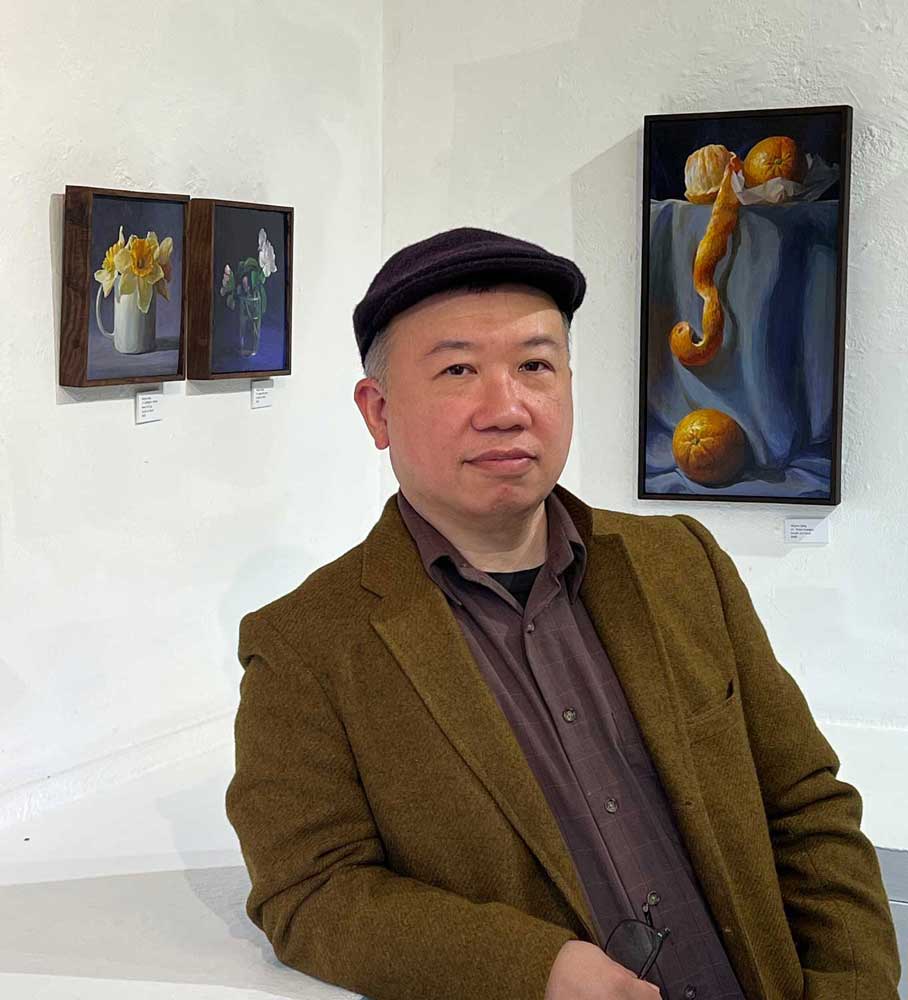 Program Description: Paintings of Seabeck Bay in Acrylic
Let's create art inspired by the beauty of the Seabeck Bay! In this workshop we will create landscape paintings of the Seabeck Bay in acrylic. Along the way you will learn to:
Mix and paint subtle colors for landscapes
Apply different brushstrokes to describe a variety of textures for mountains, foliage, grasses, and water
Apply opaque and transparent layers
Contrast muted and saturated colors to create mood in paintings
Simplify details to make a stronger painting
We will also examine painting movements and famous artists from the past, like the Hudson River School, Tonalism, John Constable, John Singer Sargent, and Andrew Wyeth to help us understand how to paint landscapes more effectively in technique and spirit.
The workshop will include painting demos, slide presentations, eye training exercises, and painting sessions with a lot of 1:1 mentoring with the instructor. Participants can paint along with the instructor or create paintings on their own. Photo references in different levels of complexity will be provided. All skill levels and beginners are welcome.
Biography: Wayne is a Portland-based realist acrylic painter. Combining the aesthetic of 17th century Baroque paintings and the composition of modern documentary photography, his works have been described as the contemporary interpretations of Vermeer and Hopper. His artwork has been widely exhibited in museums and galleries such as the Morris Graves Museum of Art, Triton Museum, Crocker Museum, Lan Su Chinese Garden, History San José, and Guardino Gallery. As an art educator, his area of specialty is acrylic painting and color exploration for all mediums. He has 3 decades of experience working with acrylic and 14 years teaching acrylic. His students are artists with diverse skill levels: from someone who has never painted to professional artists who want to refine their painting techniques, color skills, or learn a new medium. His deep interest in art history is incorporated in both his paintings and how he teaches.
For more information about Wayne, visit: waynejiang.com.
Drew Betz - Felted Wool Embroidery
Program Description: Wool is one of the oldest materials used by humans. It is incredibly easy to sew through and felted wool is the perfect medium for using decorative stitches and creating gifts for beloveds. This workshop will focus on learning and practicing embroidery with Perle cotton and other threads on felted wool. Other embellishments may be added as desired. Each participant will be able to work on a sampler of stitches and create one or more projects that can include a needle case, a candle mat, or a smal quilt. All of the work will be done by hand.

Biography: Drew Betz has been an instructor at previous Creative Arts Eliot camps, the focus being on quilt making. The opportunity to do handwork as a creative endeavor is a logical next step. Drew has been working in the wool medium throughout her practice in quilt making and fiber art. She enjoys the freedom that using wool provides.
Drew has recently shown her piece, Pomegranates, in the 2022 International Quilt and Fiber Art Festival. The piece is 18 x 18 inches and is created from a recycled wool coat, hand-dyed felted wool, thread, sequins, and beads.
Calling All Artists!
Are you interested in presenting a workshop at Creative Arts Eliot? If so, you can find more information at this link: Workshop Presenter Information
Ready to apply to present a workshop? Please complete the application found at this link: Workshop Presenter Application
To apply to be the CAE Children's Art Workshop Coordinator, please complete the application found at this link: CAE CAW Coordinator Application